A Day on the Farm - Moulton Farm - A New Hampshire Farm Market Coloring Book
Buy on Amazon US
by
Patty Vadalia
Published by
KVR Classics LLC
on 2018
Style:
Paper: medium quality
,
single page illustrations
Pages:
54
Format:
Stapled
I received this product for free in exchange for an honest review. This does not affect my opinion of the product or the content of my review.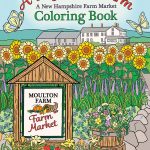 This post contains affiliate links you can use to purchase the product. If you buy a book using that link, I will receive a small commission. This does not affect the price that you pay. Your support is very much appreciated x
Coloring Book Video Review
I hope you enjoyed the video review of A day on the Farm – A New Hampshire Farm Market Coloring Book illustrated by Patty Vadalia.     This is the second coloring book by Patty.    The first one being the Blue Willow Coloring Storybook . 
. If you want to know more about Patty and her artistic process you can check out my interview with her here.
Subscribe to my YouTube channel and never miss a coloring book review.
A Day on the Farm Coloring Book  Review
Most coloring books that I review are based on a place that exists only in the artist's imagination.     That's not the case with A Day on the Farm Coloring Book.    It is actually based on a real farm called Moulton Farm in the New Hampshire, Lakes Region.  Moulton Farm is a destination place for families and food lovers.   You can enjoy a day on the farm shopping for farm baked goodies, visiting the market, getting lost in the corn maze and enjoying the garden centre.
The farm also holds a number of events like pick your own pumpkins, cider sampling (yes please!) and Christmas decorating workshops.    The illustrations in the book reflect the actual activities and events that take place through the seasons.
As most readers know, I spent my childhood on a farm. I have to admit though I'm pretty envious of Moulton farm. There's so much to do! It seems only natural that a coloring book should be made about this farm that attracts all walks of life.  It even caters for school excursions and events and runs workshops.
Cover & Layout
A glossy soft cover protects A Day on the Farm Coloring Book. On the inside covers you will find colored pictures showing scenes from the farm – the corn maze, garden centre, fresh produce and flowers all feature. On the back cover you will find a lovely view of the farm together with a few thumbnails from the book.  A Day on the Farm Coloring Book is approximately A4 sized.
This coloring book is staple bound (which can be easily removed if you like to undo your books).
Ancillary Pages
Introductory text about Moulton Farm is at the start of the book.   Here you can learn the history of the farm and the activities that make it a great place to visit.   This is followed by a dedication page featuring apples, berries and flowers for you to color. This would be a great spot to test out your mediums.
Layout
There are 24 pages to color excluding the Ancillary Pages.    All illustrations are printed on single-sided paper.   The paper is smooth, white and a medium to heavyweight.     As you will see from my video review,  I tested a number of products with the paper.
Although the paper reacts well to alcohol based markers, I would ensure that you have a blotter page underneath to avoid ghosting.
Art Work
The artwork comprises an illustrative depiction of  Moulton Farm.   You will find pictures of farmyard animals, produce, plants and even the corn maze.  Moulton Farm has a farm market where they sell all types of produce ..even seafood which is also featured in the coloring book.
The illustrations of people and animals are in a fun cartoon style.    Most coloring books that cross my desk rarely feature men or farm machinery.   This book breaks that trend with some cute tractors and cartoon style men.
The bulk of the line art is a heavy, dull black with large open areas of the image.     This type of artwork makes it ideal for those new to coloring, or with a visual or motor impairment.     This is also the type of book that a child would enjoy or one to share with adult and child.
Colorists that are skilled with techniques will be able to create beautifully realistic images.  However, even without knowing fancy techniques this would be an easy coloring book for all ages to enjoy just solidly coloring.
Detail Level
Where to buy A day on the Farm – A New Hampshire Farm Market
Happy coloring x
Lea
Related Posts